What you can expect
High school & middle schoolers meet at 10:30 on the 2nd, 3rd and 4th Sundays of the month in room 300. We do not meet on the 1st Sunday of the month as that time is reserved for the family to worship together and receive communion. Our meetings serve as a casual, laid-back time to worship & celebrate God with their peers. Social distance will be practiced and students are asked to wear masks. We use the Orange curriculum for middle schoolers & high schoolers like we do for younger grades making for smooth transitions for both the parents & kids as they grow. Not comfortable attending in-person? Attend via Zoom by clicking here.
How we can stay connected
It takes a village to raise a child & we want to partner with you! Join our email list and the TCUMC Family Ministry Facebook group so we can stay connected. Also, be sure to text Student to 937-451-2629 to get text alerts & download the Parent Cue app shown below to keep the lesson going at home.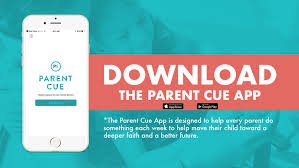 Would you like more information? Fill out the form below & you'll be contacted.